SalesOn – Sales Enablement platform that automates and verifies the development of the sales department's competences
---
Prepare your sales team and partner networks today so they can sell more tomorrow!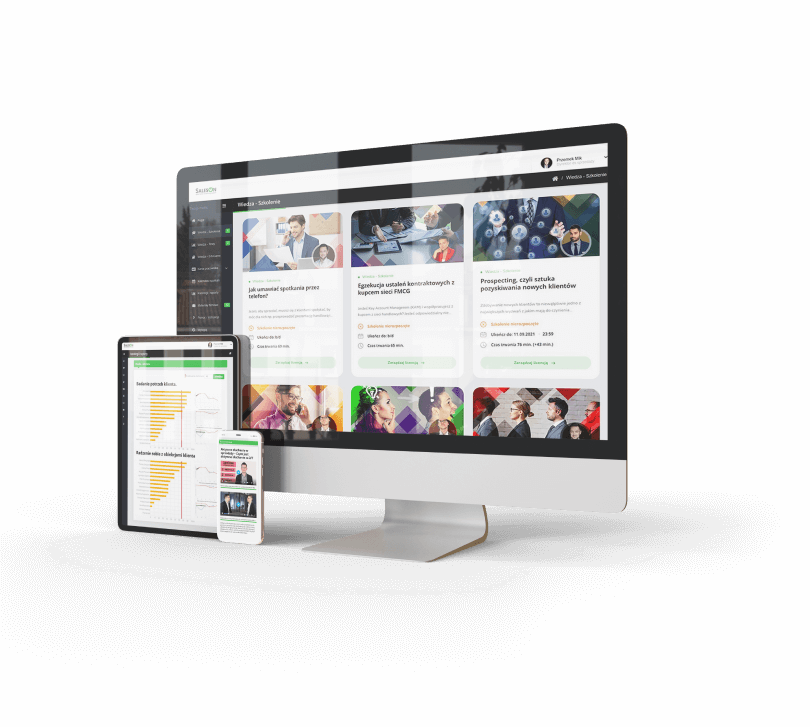 Benefits of implementing SalesOn in your company
More than 250 companies increase the product knowledge and skills of 14,000 of their salespeople and distributors, thanks to which many of them generate more sales.
%
increase in annual sales results
x
faster knowledge transfer on the marketing-sales-distribution line
%
savings in the training budget
%
faster growth of product knowledge among salespeople
x
shorter introduction period into the sales department for employees
/
access to knowledge anywhere and anytime
Sales, Marketing, Distribution and HR work together seamlessly to increase sales results!
Improve the quality of cooperation and information exchange between key teams and increase the efficiency of salespeople and your partner networks.
All of your sales, product, and commercial materials in one place.
Product and assortment training (online)
Information about new products in the commercial offer
Internal commercial and marketing standards
Commercial Skill Training (Online)
Marketing, promotional, and product materials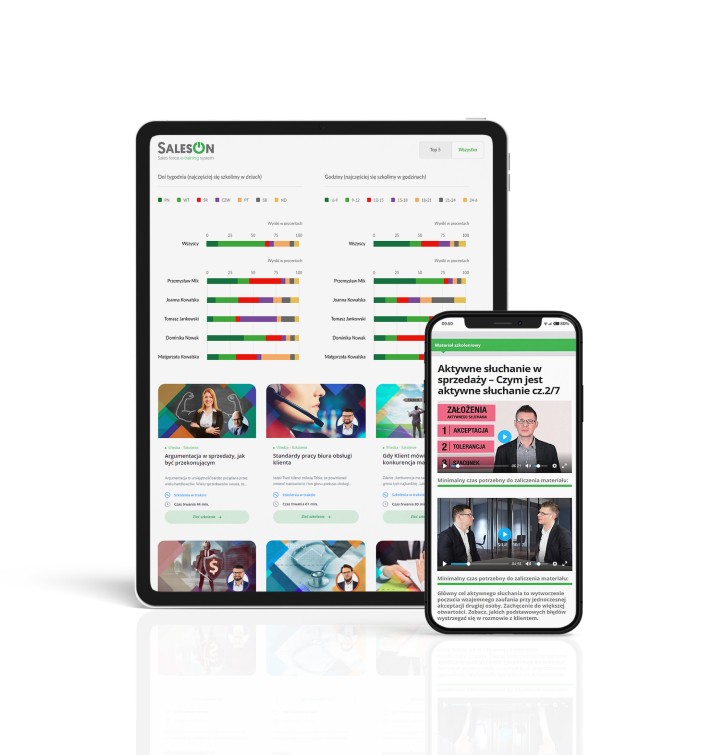 Transform the potential of your salespeople into real sales results.
Thanks to intelligent management of assortment knowledge, online product training, and marketing materials, we enable salespeople to improve business talks with their customers.
Several weeks instead of a few months.
Reduce salespeople's preparation time with product news, product mix changes, sales standards, and sales skills.
Analysis, management, and development of competences.
A system which allows the increase of sales results by reducing soft aspects of competences to the level of hard, quantifiable data.
Customers about SalesOn
Wojciech Cichy Field Sales Director at Danone
[…] indeed, thanks to SalesOn, we have been constantly improving the competences of our sales team for almost two years! It was all possible thanks to mutual understanding, commitment, and partnership cooperation. Many thanks to the entire team of McHayes Steward Group and Danone's HR and Sales team
Jarek Ganiewski Field Force Manager at Fiskars
SalesOn allows us to develop the sales team in small steps. The greatest value is the reporting module, where we see what salespeople know and can do, and on which areas we still have to work on. Working at Saleson also allows you to develop the involvement of salespeople in the learning process anywhere, anytime.
Karolina Szołoch HR Coordinator at Sopro Polska
SalesOn is a practical tool that allows you to develop competences and skills of the sales force. It offers a wide range of training courses for sales representatives as well as for managers. In an easy and accessible way, you can analyze the results, track the progress of employees and determine the potential for improvement. For us, creating our own product training is also of great value. I recommend!
Luiza Lutek Sales Force Development Coordinator at Polkomtel
SalesOn appeared in our structures during the pandemic, thanks to which our sales reps were not deprived of access to knowledge and opportunities for continuous development. The subject of training on the platform allows you to personalize training and adjust materials to the diagnosed needs of our employees. This year, we are going a step further – we decide to use the opportunities related to planning and monitoring coaching work offered by SalesOn.
Waldemar  Jakubus Sales and Marketing Director, Member of the Management Board at DOBROWOLSCY Sp. z o.o
"We have been with SalesOn for 2 years. This accessible form, fast and easy to use, allowed for the introduction of regularity, mobility and a wide range of topics in the field of training for our sales reps and telesales reps. Being able to repeat and easily access knowledge is a key factor in keeping it remembered and used. I believe that this is the most optimal form for companies with large sales departments. "
Mateusz Szlichciński Field Sales Manager Poland at Brown Forman
SalesOn gives our salespeople the opportunity to learn according to the rhythm and preferences of each of them, additionally they can train from anywhere.
Marcin Gniewisz Commercial Director at Herbapol Poznań S.A.
I can wholeheartedly recommend. A well-prepared product, an efficient service base, and most importantly … we developed the final functionalities together… and now we are happy to use it. Thank you to the entire SalesOn Team.
Grzegorz Barszcz Vice President at Politan
This solution is on point. It perfectly addresses the needs of the new post-Covid world. Our salespeople are satisfied and committed. I can wholeheartedly recommend using SalesOn.pl
Tomasz Słoma Sales Department Manager at LangMedia Sp. z o.o.
We implemented the SalesOn platform at the beginning of 2020 and it was a great decision. Our sales representatives have the opportunity to develop their sales skills at any time, which translated into better results of the company despite the pandemic. I recommend SalesOn to any company that appreciates the importance of investing in human capital.
Let's talk
Schedule a short videocall with our sales enablement consultants and learn about the platform which brings salesforce development into the 21st century.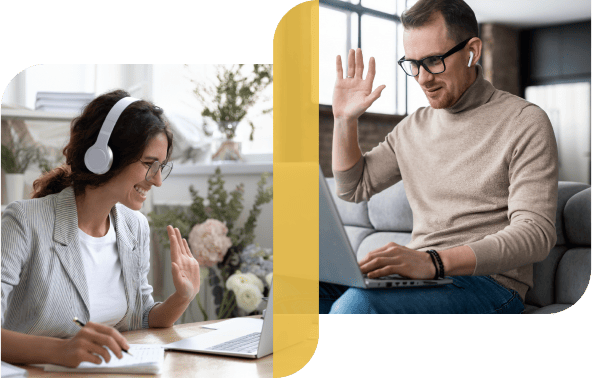 Spread a word...
and get 30 days of free access to SalesOn.
Do you know the directors (or companies) who might be interested in SalesOn? Spread a word to them about us.

Make it easy for us to contact them and we will repay you.
Find out more